So you've started a blog, a business, a podcast. You've written an article, an essay or a book. You're working your side hustle.  Maybe you are trying to get speaking gigs, or host a workshop. You need a headshot.
I know, you want to lose 10 pounds first. I know, it's expensive. I know, you don't like getting your picture taken. You need a headshot. Still.
Headshots aren't just for models and actors anymore.  Gone are the days of an almost high-school photo-ish style mug shot. Headshots can be an effective marketing tool in your brand tool bag. So how do you make your headshot count?
I talked to Nicole Taylor, owner of Whole Lotta Grace Photography, to get a few insider tips. Taylor is a former TV journalist turned photographer who understands that every picture tells the story.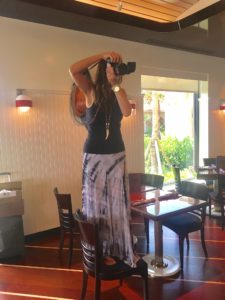 YOU NEED MORE THAN ONE HEADSHOT: There are a lot of ways to use headshots: bios, blog posts, social media updates, marketing flyers etc. So take advantage of your photo session with outfits that will convey different vibes. Talk to your photographer about how you intend to use the photos. That can help spark ideas for locations and styles. Keep your outfit simple. Choose one piece of clothing or accessory to show off your personality (statement necklace, great pair of earrings, funky pair of reading glasses, floral skirt, etc. ) "Focus on one complete outfit, and two different shirt changes," says Taylor. "You want to have more fitted clothing, not lose. As far as makeup, you want to look like you — so nothing too bold but you want to apply it heavier than normal. Eyes are everything so go for those fake eye lashes if you can – it is subtle but really can make your eyes standout. If you're used to a nude lip, add some gloss – just a little step up from the norm." Taylor suggests splurging for a makeup artist if you can work it into the budget. 
NO, YOUR HEADSHOT FROM 4 YEARS AGO DOESN'T COUNT. You know that friend who got mad that her date didn't look like his online picture? Yeah, don't be that person. People want to know who they are doing business with NOW. Your headshot needs to be refreshed from time to time.
MAKE YOURSELF COMFORTABLE: From your outfit to your smile, it's important you feel confident. "If it's something that makes you uncomfortable, that will come across in the photo no matter how hard you try to hide it," says Taylor. She uses a few tricks to help people laugh naturally. "Authentic is the number one key to a great headshot. Having a glass of wine or beer beforehand doesn't hurt either," she laughs.
Taylor says your photographer should be asking you more questions than you ask them, especially at the beginning. They need to understand "your profession and what you do in your day to day so they can understand the story you are trying to tell," she says. If you aren't sure a photographer is for you, ask for examples of their work before you agree to any deal.
Headshots are one of those things we tend to put off. Most people don't like looking at photos of themselves. We are often our own worst critic. Wait, is that just me? Seriously, many of us would be better off if we saw ourselves how other people saw us and stopped focusing on the wrinkles, the bad hair days, our crooked smile or our arms that aren't perfect.
Your headshot isn't about any of those things. It is a wonderful celebration of all the gifts you have to offer. It should show off your personality and put you in the best light (literally!). So go ahead and DO IT! As I tell my daughter every day, the world needs you. Get a little glam and have some fun. You'll be glad you did!